I was looking forward to a long nights sleep, which I needed. Good'ol jet lag kicked in and I was up at 5:00am. Which would have been about 11pm at home, so I have no idea what went on there. I was hoping to get caught up later that night.
I went down to a coffee shop at 6am, got on the Internet and finished up some work I had left over from the day before. Then breakfast at the hotel. Then we headed out walking.
We went down Parliament Street on the way to "The National Gallery". The National Gallery was probably the thing in London I was looking forward to the most and I was not disappointed. Before going in we stopped for a photo op with the lions at the base the of Lord Nelson statue in front the of museum, then went inside. It was awesome. One of the best art museums I have ever been in. I probably could have spent 3 days there. The highlight for me was a drawing by Leonardo da Vinci. It was the first thing I've ever seen of his and it was phenomenal. Alas we could not spend the next 3 days going to The National Gallery, we had lots more to see.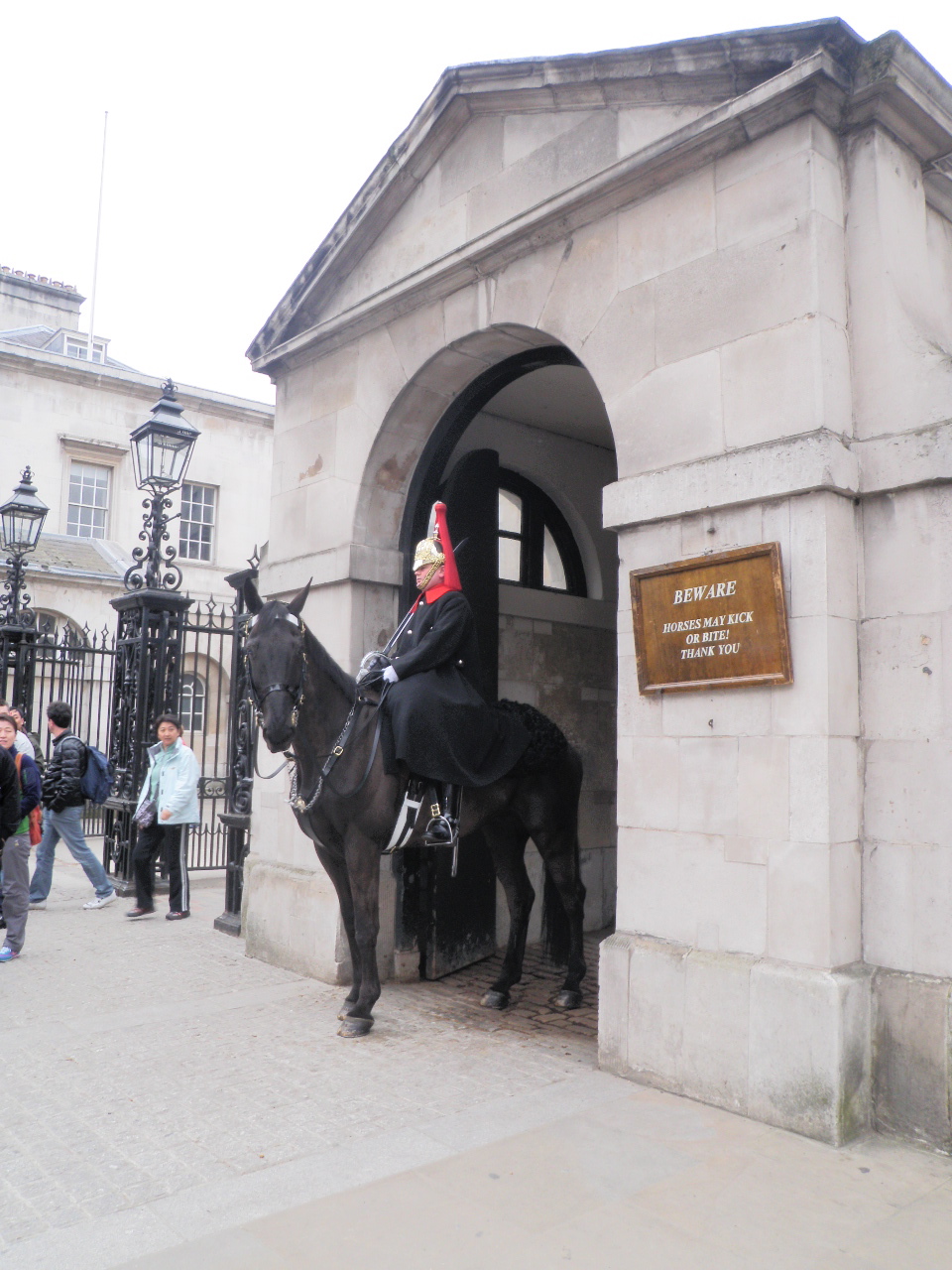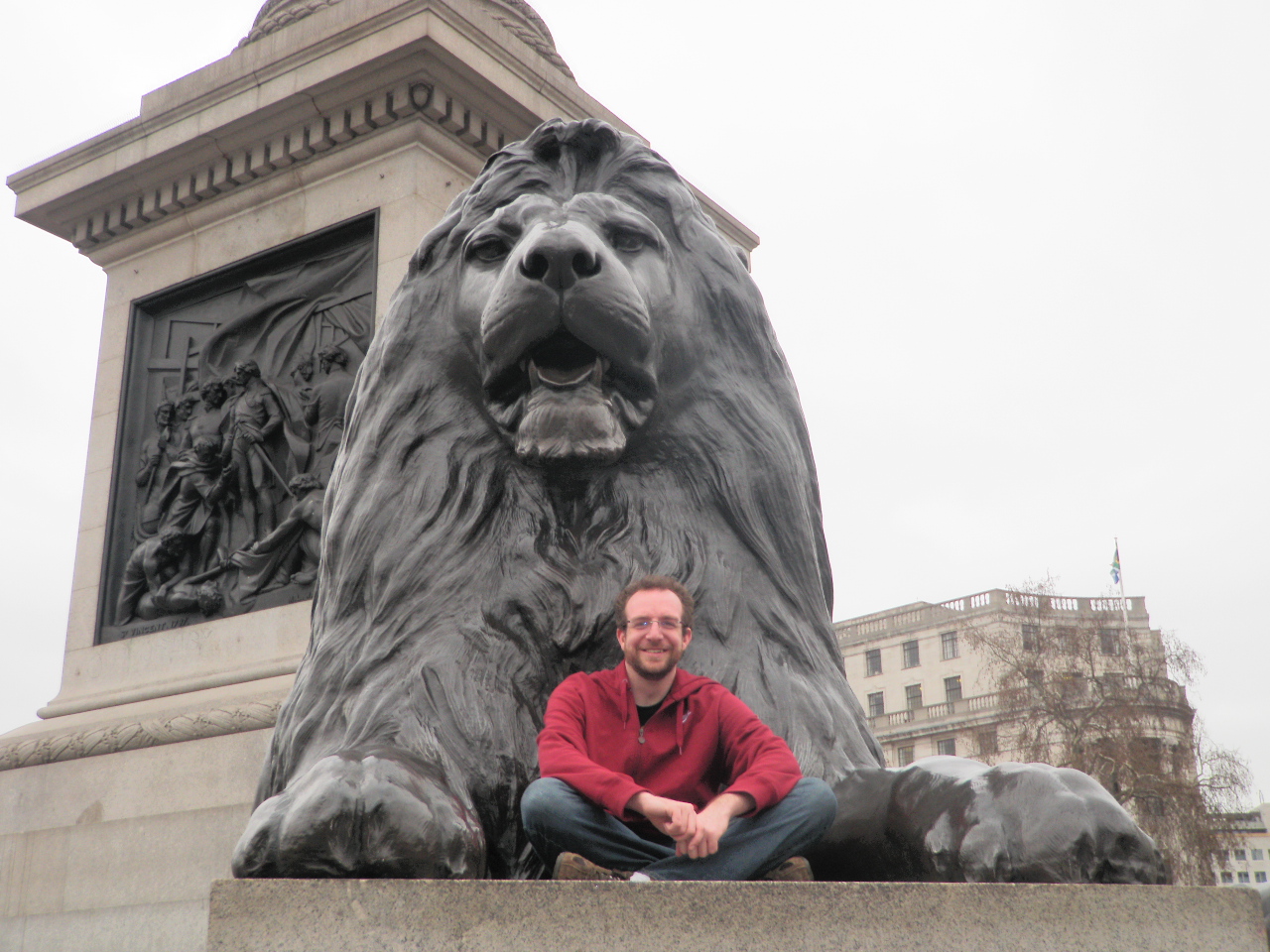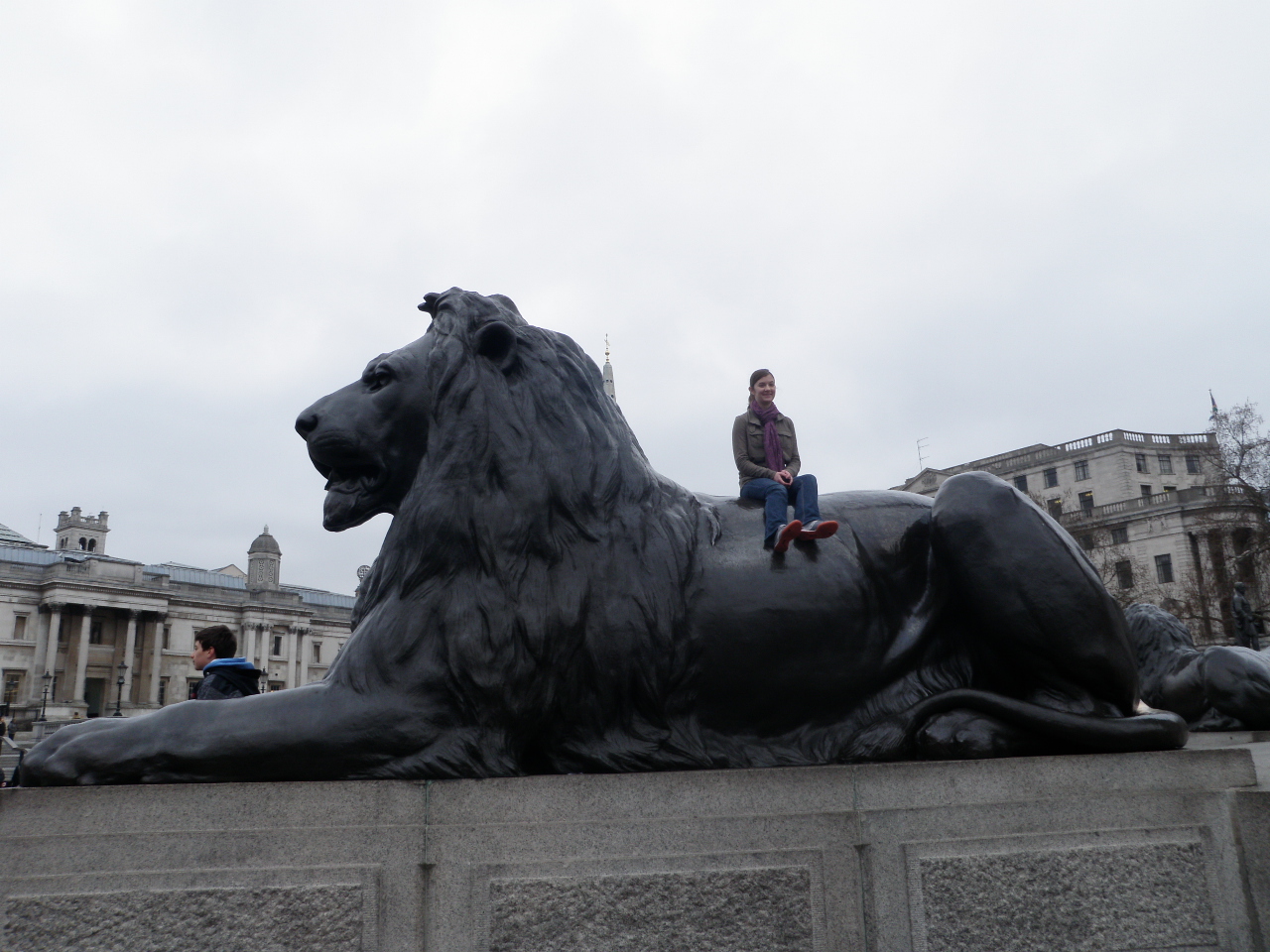 In the afternoon we headed over to the British Museum, which was also very impressive. I'd never seen anything like it before. They have so much stuff, including the Rosetta Stone. The building itself was a pretty impressive piece of architecture too. The main gallery is this huge circular room with a glass celling, and the outside walls are these giant classic facades with massive columns and everything.
In fact we were sitting in the main gallery when we decided it was time to go to the bathroom before we left. We had noticed a green sign of a figure running in both the British Museum and the National Gallery that always seem to point to where the the bathrooms were. I saw this pointing down some stairs near where we were sitting and noted how clever the British were, making a sign that depicted running to the bathroom. Then we proceeded to follow those signs looking for the bathroom. We went down some stairs, down a hallway, through a heavy looking door with a crash bar with big letters on it encouraging me to "Push Here to Open". So I did. Heather tried to stop us at this point, saying something about how it looked wrong. I pointed out that we knew the signs were for the Bathroom and the door was telling us to go through it. So we went through. Then I started to notice the bare pipes and unfinished floors, and I started to wonder if we had made a wrong turn. I went back down the hallway, and the "Push Here to Open" door had locked behind us. At this point (after a short discussion) we realized what the sign really meant. It was for emergency exits. Apparently they don't believe in calmly exiting buildings in Britain during emergencies and want everyone to run for the doors. So we wandered around the basement and yard for a few minutes, no one stopped us until we had found our way out when a guard noticed us and asked us what we were doing. After he let us go we went back into the museum through the main door and following the "guy and girls standing next to each other" signs to the bathrooms.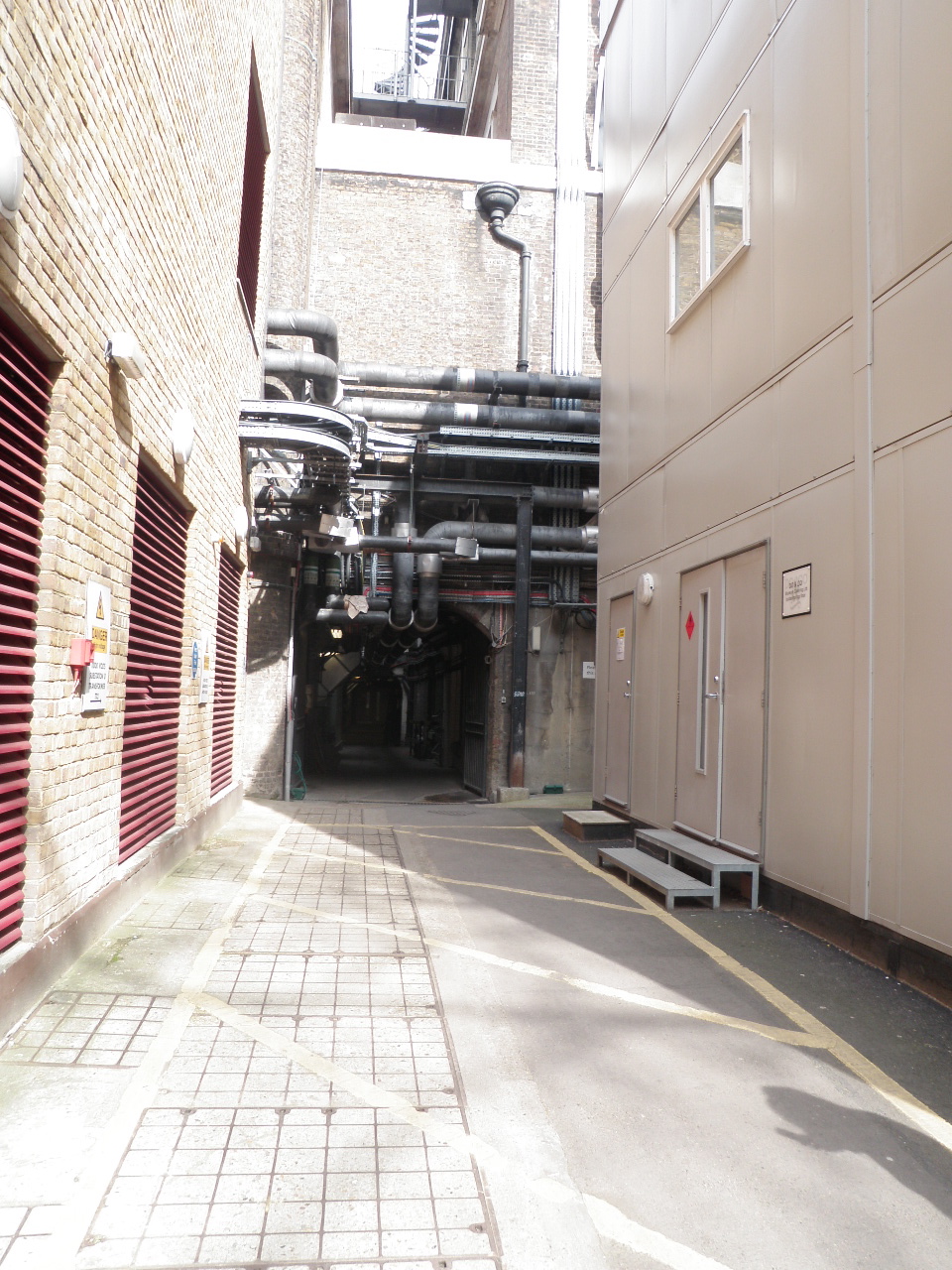 Next we got on "the tube" and headed up to Notting Hill and the Portabella Market. It was a beautiful day. The sun had come out and it turned out to be a very nice neighborhood for walking around in and the market had a lot going on. Heather wanted to go there because of some movie I hadn't seen, I was a little hesitant but it turned out to be really nice.
While we were up "on the hill", we went off the main drag to try to find some houses that looked like the houses in the movie, and we found this pub, and my leg was starting to hurt, so stopped for some beer. The guys running the place were pretty cool, they let us sample a few of the different kinds of beer. When we were sitting outside the owner of the bar was making some sort of arrangement to put a bunch of art for the bar from this guy he knew who pulled up in a BMW. He kept pulling frame after frame of these antique maps and communist posters and who knows what else. They'd lay them out, talk about them. The wind would blow them over. He would pull more pictures out of his car. They asked Heather to help them make some sort of judgment. Kinda strange, but it kept us entertained.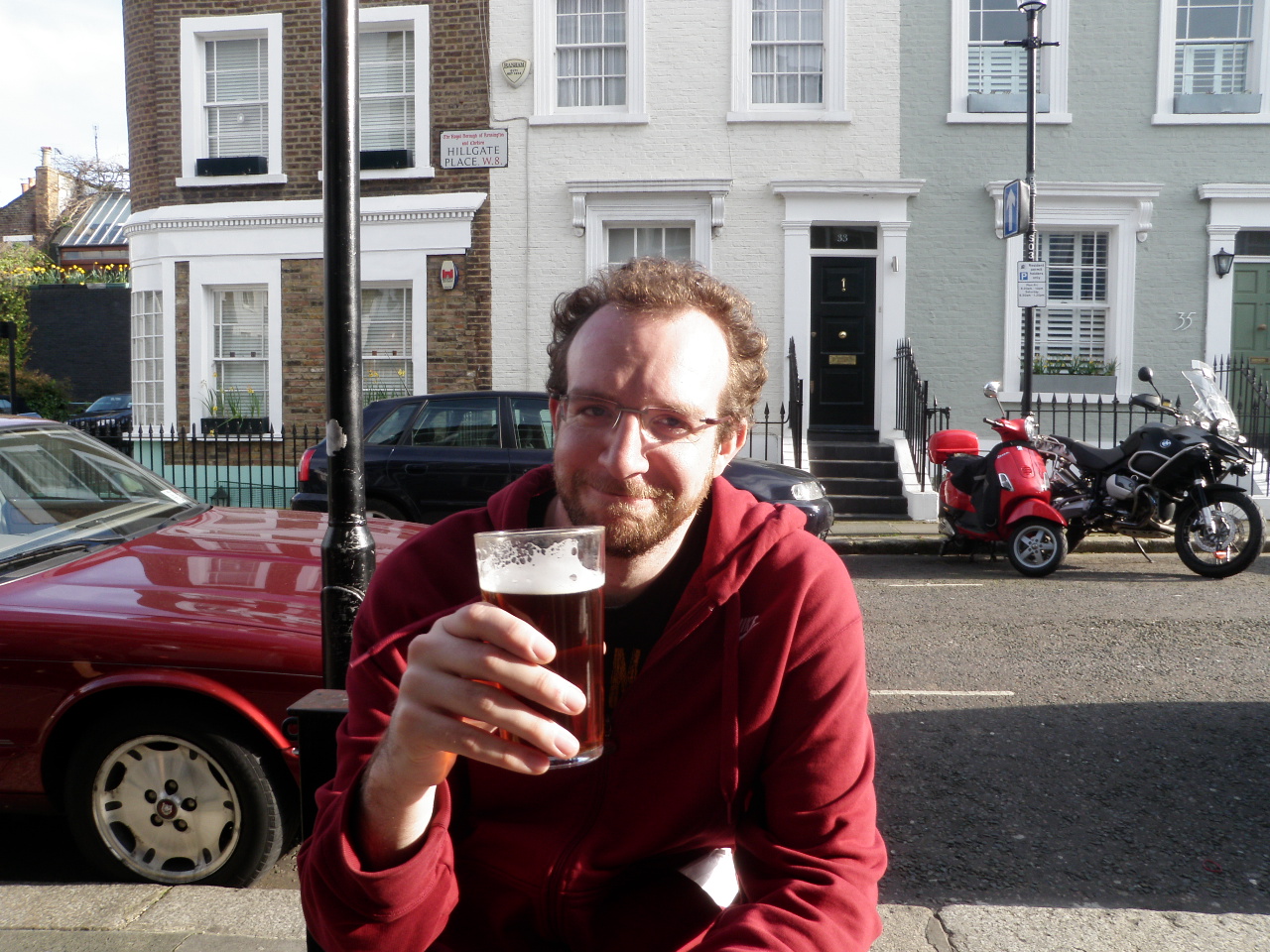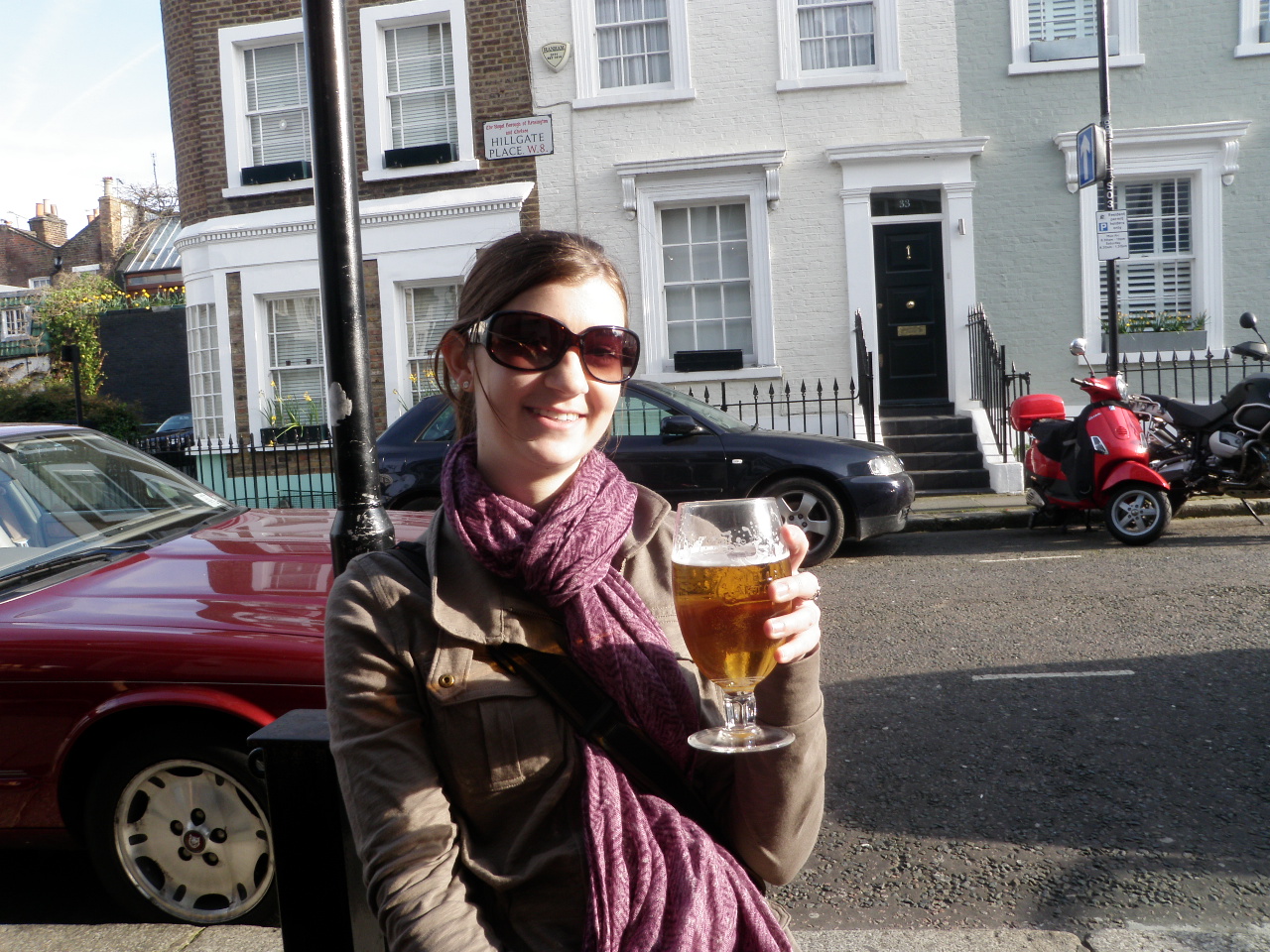 After that we finished climbing to the top of Notting Hill and down to Kensington Palace and Gardens. Which was also beautiful. I would have really enjoyed it, but my knee was really upset at me for some reason. We had to keep stopping so I could rest it.
We made it back to the hotel, I took some Ibuprofen and we went to the local pub the receptionist recommended. I had some sort of fancy version of fish and chips called "King Cod" and Heather had some sort of fancy chicken. It was good, but expensive. I was warned about that. Oh well, it was really good food, even if we did have to pay for it.
Then we went back to the hotel to wait for Elyisa to show up. She was taking the Chunnel from Paris. It was April 1st so we wanted to pull some sort of a prank. The best thing I could think of was going into her room and short sheeting her bed (we already had the key for her room because we had checked in for her). We tried that, but the sheets weren't right for that. Heather also tried the there was "a mix up and the only room we have is this one, and there is only this one small bed the for the three of us to sleep in". Elysia said she would have bought it if we had bothered to put all our stuff in her room, which in retrospect might have made the joke work. Oh well, we probably were too tired to be trying to pull off any sort of awesome prank.
We went down to Albert's for a quick drink to celebrate Elysia's arrival. Sadly the city of Westminster had pretty strict bar close rules. We didn't see a bar that was open past 11pm on weeknights and all the ones by us close even earlier on weekends. It was just as well what with all the waking up before the crack of dawn and all the walking everywhere I was pretty much beat by 10pm.
We did get to talk to this one guy at Albert's though who talked just like Wallace from "Wallace and Grommet". He was pretty cool.
Then it was back to the hotel to hang our for a bit and bed time.